Hello everyone! I'm back. It's been a while since I've posted anything because so many things have been going on in my life. Life has just been busy these past few weeks making me not blog for anything. Well, as you all may know, I'm a pop culture kind of guy who actually knows a lot about what's going on. Today, we're going to talk about what you may have missed at the Oscars! Let's get started!
What is there on live television that can avoid politics? You tell me! But the Oscars definitely does not fit into the politic-free zone as Jimmy Kimmel took many stabs at it. Since I know some of my viewers are anime fans, they may not know too much about American culture so Jimmy Kimmel is this dude:
Pretty much the only thing you need to know is he is a talk show host. This year, the Oscars were hosted by him giving everyone another reason to watch the Oscars. He went on about the famous "Make America Great Again" line and how if we all actually met someone we had issues with, it would make America great again. Now, talking about problems… this lead to him roasting Matt Damon. "When I first met Matt Damon, I was the fat one." You know about the movie, the Great Wall starring Matt Damon right? If you don't, makes sense cause the show did not do to well according to Rotten Tomatoes or Metacritic.
"La La Land", the movie which was nominated 14 times for an Oscar, was expected to win the majority of the awards and boy were we right. But just not all of them (and one was reversed). I'll get into details about the most talked about moment of the night. Pretty much all I know is "La La Land" has been nominated many many times.
Back to politics! Meryl Streep received the lifetime achievement at the Grammys and decided to use her speech to attack Trump on his actions. Simply because of the speech, Donald Trump had called Meryl Streep an overrated actress. I'm telling you, if there's one woman in this whole world who is not overrated, it is this talented lady right here.
"And of all the great actors here in Hollywood, one in particular has stood the test of time for her many uninspiring and overrated performances." Jimmy Kimmel was pointing the finger at Donald Trump. Surprisingly, Donald Trump did not take to Twitter to fire back.
Throughout the whole night, Jimmy and Matt Damon were reigniting their feud with each other but it was not anything too serious. Both of them tried to draw lashes against each other even to the point of Matt Damon tripping Jimmy.  It's quite funny to watch their creative ways to poke at each other.
Here's a funny part of the night. While Auli'i Cravalho was performing her song from Moana, "How Far I'll Go", she got "hit" by a dancer while holding the flag. I actually did not see this part since I only tuned in during the middle.
Hey! She still went through and she didn't miss a beat! Props to her.
One of the most genius plans I've ever seen was made by Jimmy Kimmel who decided to satisfy many of the audience members cravings for food since we all know the audience is so hungry while watching. For women, they need to fit into all of their tight dresses so they can't eat much but they know they are really hungry. Junior Mints and licorice fell down from the celling. I don't think this can top Ellen's pizza delivery but it was still very creative.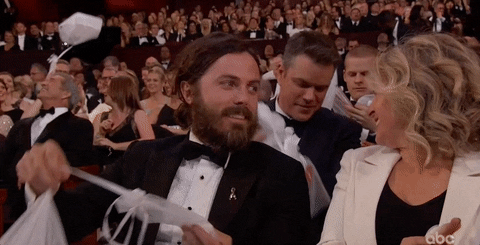 Then, Jimmy Kimmel decided to surprise several tourists who thought they were just going to see some random thing but ended up in the Dolby Theatre. Man I wish I was in that tour! I would have gotten to meet Meryl Streep (the "overrated" actress).
FINALLY! THE BIGGEST MOMENT EVERYONE WAS TALKING ABOUT! I'm sure by now you guys should know but there was a bit of a screw-up when they announced "La La Land" as the winner of Best Picture (the highest award there is). Many people were not very surprised until one of the people of "La La Land" said "Moonlight" was the winner. The way I took it and the way the majority of people probably took it as was a compliment in which he did not feel he deserved the award. That was until he said it was the truth and revealed the card to the camera of "Moonlight" on top of the words "Best Picture".
We later found out it wasn't the announcer's fault but actually the committees fault since they gave the announcers the wrong envelope. Anyways, boy was that a night!
Thank you guys so much for reading this post! If you guys want more of these posts, please put a comment down below! See you guys later! Bye!
Sources:
http://www.brain-magazine.fr/article/reportages/28415-Exclusif-le-palmares-des-Oscars-2017